Episodes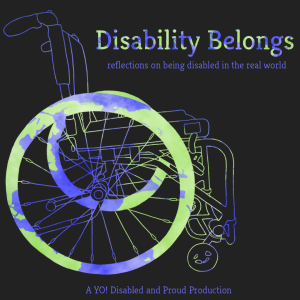 Thursday Oct 28, 2021
Thursday Oct 28, 2021
In the first-ever episode of the Disability Belongs Podcast, I talk with the wonderful Tatum! Tatum has a bachelor's degree in Christian Studies and Philosophy and is currently in a master's of divinity program. In today's episode, she talks about her experience growing up as a Disabled person in the education system. We talked about what it means to live fully into your Disabled identity, told stories of accommodations in high school, and even talked about the time we both dyed our hair blue.   TW ableism   This podcast would not be possible without the support of CFILC and the YO! Disabled and Proud Program. The opinions expressed in the Disability Belongs Podcast do not necessarily reflect the opinions of CFILC, its member organizations, or YO! Disabled and Proud.   Please follow us @disability_belongs_podcast on Instagram. Visit disabilitybelongs.podbean.com for more info on the podcast. View the episode transcript here.   Thanks for listening!
Meet your Host!
Hi! I'm Cami! As a Disabled college student hoping to work as a physician someday, I have often felt isolated going to school with mostly abled peers. When I looked for stories like mine, they seemed hard to find. Enter the Disability Belongs Podcast.
With the help of my team at YO! Disabled and Proud, I have created a podcast to center Disabled stories and remind the world that Disabled people belong in every area of life.